Mgr. Veronika Macková, Ph.D.
Mgr. Veronika Macková, Ph.D.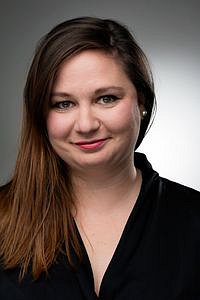 Rok vydání
Monographs
Chapters in monographs
Articles
Contributions in the conference proceedings
Veronika Macková is an academic researcher at the Faculty of Social Sciences, Charles University in Prague. Previously, she held a position as a journalist at Czech Television, which is why she mainly teaches practical journalism-oriented courses. Her areas of research interest include sports journalism and artificial intelligence journalism. In her academic publications, she focuses mainly on para sports and athletes with a disability. She also belongs to the research team of two international projects as well as several projects supported by the Technical Agency of the Czech Republic. Veronika Macková was also part of the COVID-19 infodemia project, which won three awards. The project became the absolute winner of the tenth annual award of the Technology Agency of the Czech Republic. COVID-19 infodemia also won the Miloslav Petrusek Prize for presentation 2021 (the project team donated the financial reward associated with it to the endowment fund of the UK for the support of academic researchers from Ukraine) and won the prize in the category Effective planning, research and evaluation of communication in the international competition of media analysts AMEC Awards.