The COVID-19 infodemic project is the absolute winner of the TA ČR 2022 Award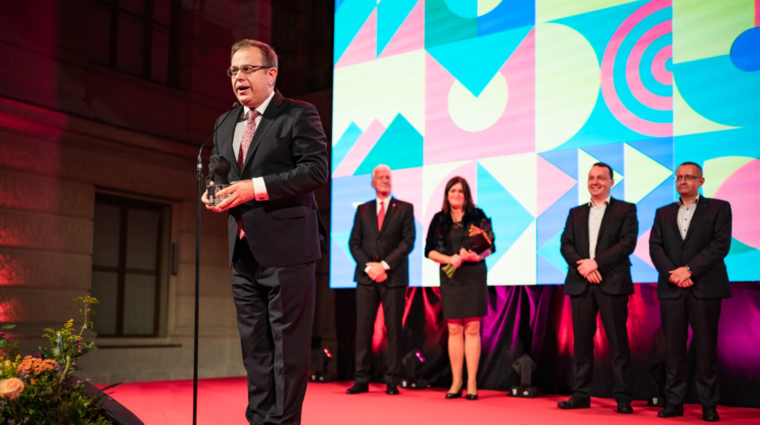 The COVID-19 infodemic project is the absolute winner of the TA ČR 2022 Award
The project of the main researcher Václav Moravec became the absolute winner of the tenth annual award of the Technology Agency of the Czech Republic, which announces the best applied research projects with a high contribution to society.
The COVID-19 infodemic project won the Czech Idea statuette thanks to audience votes on the TA ČR website and in the hall. During the ceremonial evening, it was accepted by Václav Moravec, who dedicated it to the winners of all categories of the TA ČR 2022 Awards and thus made it a traveling award.
The entire Day of TA ČR 2022 and the presentation of awards were accompanied by the theme of diversity in research. "For me, diversity in research is above all the linking of different fields - it is fragmentation that we can connect. When it comes to the support of applied research by the Technology Agency of the Czech Republic, I appreciate the support of connecting technical and humanitarian fields," said Václav Moravec.
The project was not awarded for the first time - it already won the Miloslav Petrusek Award for the presentation for 2021 in the past (the project team donated the financial reward associated with it to the CU Endowment Fund to support academic workers from Ukraine) and in the international competition of media analysts AMEC Awards, it won an award in the Effective Planning, research and evaluation of communication category. In addition, in the 4th challenge of the TA ČR Éta program, the project was rated the best by the evaluators.
COVID-19 infodemic: AI communication platform suppressing the infodemic in connection with journalistic and media ethics is a joint project of FSV UK, the Faculty of Medicine of MU in Brno and Newton Media - on behalf of ICSJ FSV UK, the following researchers participated in it:
Václav Moravec, main researcher,
Alice Němcová Tejkalová, head of the media analysis team,
Veronika Macková,
Victoria Nainová,
Alžbeta Krausová from the Institute of State and Law of the Czech Academy of Sciences,
and Radek Mařík from CTU.
The goal of the award-winning interdisciplinary project COVID-19 infodemic, connecting journalism, medicine and computer science, is to reduce the level of misinformation not only in relation to the COVID-19, but also to other future epidemics, by identifying selected forms of information distortion in the media. The resulting findings and analyzes are available to both experts and the lay public on the Infomore.cz website. 
Photo: TA ČR