EUPRERA 2023 - CALL FOR PAPERS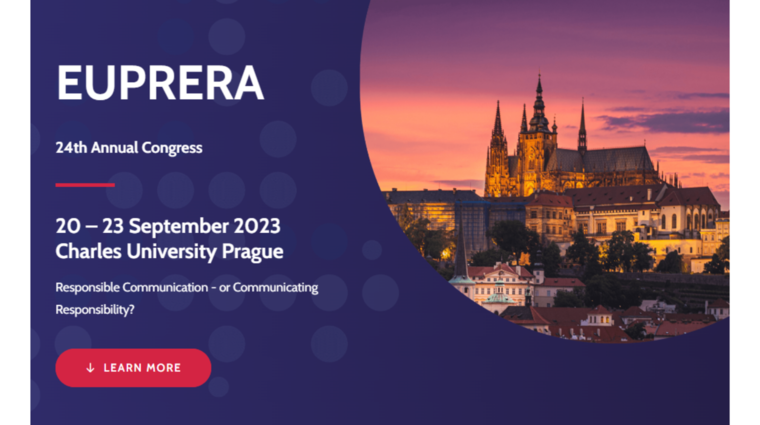 EUPRERA 2023 - CALL FOR PAPERS
The EUPRERA XXIV annual congress will take place on September 20-23, 2023, in Prague. The congress is organized by Charles University and will deal with the theme Responsible Communication or Communicating Responsibility?
March 31 is the submission deadline for short-length paper, full-length research paper and panel proposal (no abstracts).
euprera2023.com 
Submission instructions
Please carefully read the instructions contained in the Call for Papers: failing to follow them may result in an automatic disqualification.
Types of submissions
Short-length paper
Full-length research paper
Panel proposal
New review process
1-step double blind review
Publications
Authors of selected contributions will be invited to submit their work to:
A special issue of the Journal of Communication Management
A book part of the Advances in Public Relations and Communication Management series
Important dates
March 31: deadline for submission
May 28: feedback/ decision on acceptance of papers
June: full programme release
August 7: early-bird registration deadline
August 31: submission of final full paper
Programme structure
From Sunday Sept. 17 to Wednesday Sept. 20: PhD Seminar
Wednesday Sept. 20: congress starts late afternoon
Thursday Sept. 21 to Friday Sept. 22 late afternoon: congress sessions
Saturday Sept. 23: social programme
Special sessions 
Research Escalator Session
An opportunity for early- and mid-career researchers with a work-in-progress paper or research idea to receive peer feedback and support.
The work-in-progress should be submitted as an extended abstract by April 28, following the guidelines in the specific call for papers. This session is organised by EUNES, EUPRERA European Network of Emerging Scholars.
Paper Development Workshop
An engaged environment to discuss and develop research papers, structured as a workshop with a highly interactive format, focused on developing papers towards publication in top academic journals.
All scholars can apply. Priority is given to full-paper submissions from main authors who are currently aiming for promotion to tenured faculty positions (esp. mid-career researchers). Apply to the PDFW when submitting your paper for the congress. This session is organised by EUNES, EUPRERA European Network of Emerging Scholars.
Education Café
A 90 min workshop as a way to explore issues shared by EUPRERA members and congress participants in their teaching activity. This is an adaption of the World Café, a methodology for hosting group dialogue that puts an emphasis on the power of simple conversation.
The participants do not need to prepare any material, only to be open to experience and knowledge exchange with other international colleagues through constructive conversations. This session is organised by the EUPRERA Education Network.
+ more special sessions to come