Golden Courses for the best courses of the Summer Semester 2021/2022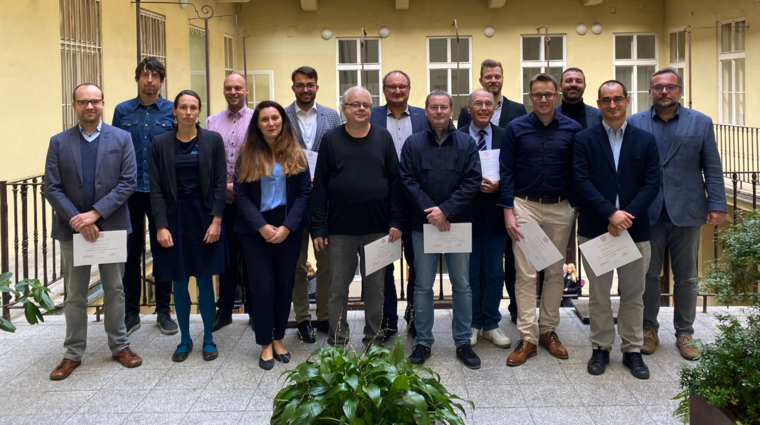 Golden Courses for the best courses of the Summer Semester 2021/2022
Golden Courses for the best courses of the Summer Semester 2021/2022 according to the student evaluation were awarded. Congratulations to all recipients!  
On Tuesday, 11 October 2022, during the Academic Senate FSV UK meeting, the Golden Courses were awarded to the lecturers. The award is accompanied by financial reward.  
Institute
Course code
Course name
Lecturer
Assistants
CJP
JLB064
Angličtina pro mediální studia II
Mgr. Jan Bumba
 
IES
JEB152
Recent Financial Crises: Theory and Evidence

PhDr. Mgr. Martin Janíčko

Kamil Kovář, M.A., Ph.D.

 

 
JEM228
Systemic Risk and Macroprudential Policy
doc. PhDr. Adam Geršl, Ph.D

Mgr. Josef Švéda

IKSŽ
JKB071
Dějiny české žurnalistiky

PhDr. Jakub Končelík, Ph.D.

PhDr. Petr Bednařík, Ph.D.

 
 
JKM025
Current Issues in Digital Media Studies
Mgr. et Mgr. Jaroslav Švelch, Ph.D.
 
IMS
JTB014
Přehled moderních světových dějin II

doc. PhDr. Ota Konrád, Ph.D.

doc. PhDr. Vít Smetana, Ph.D.

 
 
JTM014
Political Systems of East Central European Countries
prof. PhDr. Michal Kubát, Ph.D.
 
IPS
JPB586
Úvod do politického myšlení
Mgr. Tomáš Halamka, Ph.D.
 
 
JPM634
Crisis Games

Mgr. et Mgr. Tomáš Kučera, Ph.D.

Dr. rer. pol. Michal Parízek, M.Sc., Ph.D.

Mgr. Vojtěch Bahenský, Ph.D.

PhDr. Sarah Komasová, Ph.D.

doc. PhDr. Michal Smetana, Ph.D

ISS
JSB730
Základy sociální práce a řízení neziskových organizací
Mgr. Irena Úradníková

 

 
JSM311
Communications Research

prof. PhDr. Hynek Jeřábek, CSc.