ICSJ team won the Miloslav Petrusek Award for presentation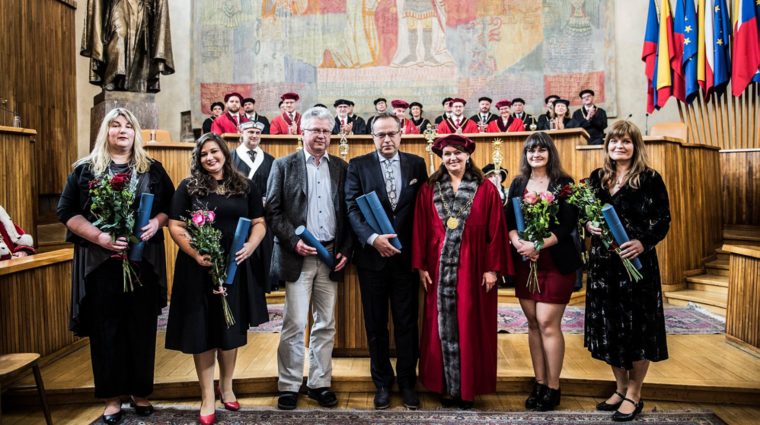 ICSJ team won the Miloslav Petrusek Award for presentation
On Wednesday, 6 April 2022, a celebrations commemorating the 674th anniversary of the founding of Charles University took place in the Grand Hall of the Karolinum building. On this occasion, the Miloslav Petrusek Prize for Presentation, the Bedřich Hrozný Prize for Creative Achievement and the Donatio Universitatis Carolinae Research Support Award were awarded.
This year, the Miloslav Petrusek Prize was awarded to a research team from the Institute of Communication Studies and Journalism for the project entitled COVID-19 Infodemic, namely:
PhDr. Václav Moravec, Ph.D. et Ph.D,
doc. PhDr. Alice Němcová Tejkalová,
Ph.D., Mgr. Veronika Macková,
Ph.D., Ing. Radek Mařík,
CSc., Mgr. Alžběta Krausová, Ph.D., LL.M.,
Mgr. Victoria Nainová.
The Miloslav Petrusek Award for Presentation is awarded for a positive achievement that has a significant impact on the image of Charles University in the general public. The award is named after one of the most prominent Czech sociologists, the Dean Emeritus of the Faculty of Social Sciences of Charles University.
The aim of the award-winning interdisciplinary COVID-19 Infodemic project, linking journalism, medical and computer sciences, is to reduce the level of misinformation not only in relation to COVID-19, but also to other future epidemics, by identifying selected forms of information distortion in the media. The resulting findings and analyses are available to both the professional and lay public on the infomore.cz website.
The award-winning research team of the Faculty of Science of the Charles University decided to donate the funds received in connection with the current situation in Ukraine to the Charles University Endowment Fund. The funds will be used to support Ukrainian students and academics at Charles University.